House Leveling in New Orleans
If you need a house leveling service in New Orleans, Our team can help. Our licensed general contractors and house leveling specialists can provide solutions to level your house and experience in:
1) Professional Service
2) House Leveling
3) Foundation Repair
4) Steel Piers
5) Helical Piers
6) Pier and Beam
7) Slab Jacking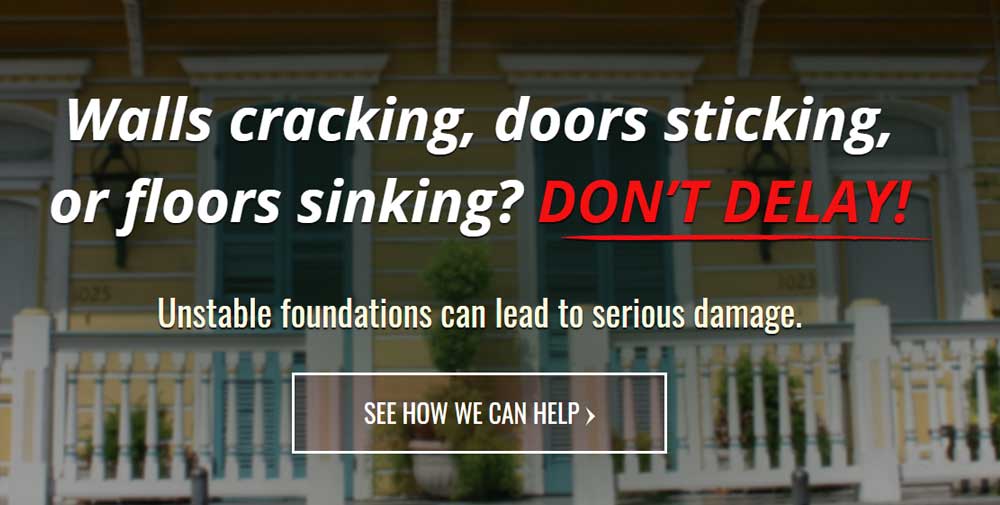 New Orleans Louisiana area local Homeowners. SAVE MONEY Now You Can Repair Your Foundation and Save Money
Call 504-858-1974 | Leading house leveling contractor in New Orleans, Louisiana. Ace House Leveling can level and repair slab houses, foundation repairs
Structural Repair Services
1) Foundation Repair
2) Concrete Recovery
3) Interior & Exterior Drainage
4) Cracked Wall Repair
5) Commercial & Industrial Services
6) Home Elevation
Why is Choose Ace House Leveling?
1) Free Assessments
2) Patented Technology
3) 40 Years of Experience
4) Available Warranty Options
5) Fast & Simple Payment Plans
House Level sunken concrete of any type in minutes
Uneven concrete around your home is another meaningful Warning sign of future structural problems. If the soil is changing sufficient to crack and move the visible concrete (say in driveways, pool decks, or paths, by way of example), its hidden parts of your foundation could also be at risk. You can learn how affordable it can be, not only to get back things for today but also in the future to ensure years of worry-free living in your house in the future.
Cracked, sunken concrete can be an eyesore. Also, it's a trip hazard. That's why we provide PolyLift — an environmentally friendly; unlike messy, obsolete mud jacking, PolyLift gets the job done with minimal disruption. PolyLift saves you more money because there's no need for expensive concrete replacement. The whole process only takes a couple of minutes to complete, leaving you with beautiful, even surfaces it can enjoy for years. Below are some of the surfaces you can easily and quickly renew with PolyLift:
1) Sidewalks
2) Streets
3) Concrete slabs
4) Garage Floors
5) Driveways
6) Patios
7) Porches
8) Patios
9) Pool decks
Foundation house leveling repairs that take care of the damaged structural parts of your Louisiana home
What if the foundation of your house does need structural repair? Ace House Leveling takes the worry out of this part using the patented Cable Lock repairing structural problems system. This system has the advantages of durable concrete pilings with penetrating steel pilings, locked together with a cable to provide more profound, more robust, more reliable, and longer-lasting repairs. We are also experts in home elevation and have many efficient and cost-effective strategies to manage intrusive water that can harm your foundation.
Here's a quick summary of the services that Ace House Leveling provides New Orleans area property owners:
1) Foundation repair
2) Home elevation
3) Concrete leveling
4) Cracked wall repair
5) Interior and exterior drainage
6) Commercial and industrial services
Remember, Ace House Leveling offers you free expert structural evaluations, patented repair technology, a variety of warranty options, affordable payment plans, and Years of reliable, trustworthy experience. If you don't act quickly, foundation problems can only get worse and more expensive. Call Ace House Leveling today to schedule your free, no-obligation foundation assessment, and an expert structural technician will be on the way to help.